Home > immobili-residenziali-vendita-affitto > annuncio 20810
Residential cottage village in Ribcev Laz
Categoria:
Immobili vendita affitto residenziali e commerciali
Annuncio:
New house in Bohinj, Slovenia
In breve:
Residential cottage village in Ribcev Laz
Data:
17/02/2020
Citta':
Bohinj
Provincia:
RM
Email:
loftitaly(x)yandex.ru
Sito web:
http://
Testo inserzione:
Living area of 129 sq.m, a plot of 284 sq.m, 2 floors, all the necessary communications, the availability of permits and author's interior design, autonomous heating, garden, parking. House project: 1st floor: large lounge with fireplace, dining room with kitchen with access to the terrace, guest toilet, pantry; 2nd floor: main bedroom with private bathroom, bedroom, study, bathroom, laundry room or dressing room. The house is built of high quality materials, located in a small residential cottage village in Ribcev Laz in the territory of Triglav National Park, 500 meters from Bohinj Lake , 4.5 km and 5 km from Vogel and Kobla ski resorts, 25 km from Triglav Pokljuka Sports Centre, 30 km from the famous climatic and balneological resort of Bled, 80 km from Ljubljana airport.
» clicca per
Contatti - informazioni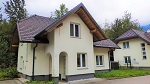 Categoria Annunci: